Timti's Hope Restored After Living on the Streets
Hello August 23rd, 2023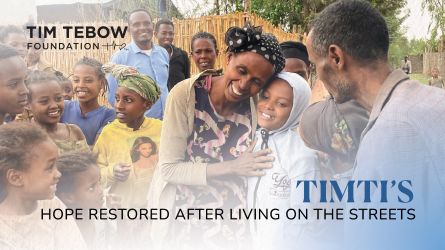 Share This Story
Around the world, many 10-year-olds can explore their own interests, pick out new bicycles, and dive into sports and hobbies. But not Timti.
As young as 10 years old, Timti felt determined to provide for her family and get an education in Ethiopia's Capital City, Addis Ababa. She moved in with an employer to work as a domestic worker. However, within a month of staying in the city, Timti experienced neglect and abuse, which drove her to run away without a place to call home.
Timti had no belongings. She was hungry and afraid of being left on the streets with the older boys harassing her. Scared and with nowhere to go, Timti stumbled upon a local policeman and mustered up some courage to ask for help.
Thankfully, Timti was quickly referred to the AGCI & TTF House of Hope, where she was provided with a safe space and nurturing environment with trauma-informed care to heal.
At first, Timti was hesitant to connect with any adult, but through the intentionality of our loving staff, Timti started to build friendships. Timti received counseling and began participating in the home's Bible studies, learning she wasn't broken or unwanted because of the abuse she experienced from her former employer. She started to find healing and learned practical steps to manage her emotions. After previously struggling with bouts of anger, she learned the importance of breath counts and finding a quiet space when she started to feel overwhelmed.
The amazing staff at House of Hope also found a way to connect Timti to her own family and provided counseling for them. Today, Timti has been reunified with her parents and three siblings! She is overjoyed to be with her family again and has placed her hope in God for her future. She is enrolled in school and is excited to learn alongside her siblings and the community in her hometown.
We are so thankful for our Ministry Partner, All God's Children International, and our generous TTF Giving Family! Without intervention at the AGCI & TTF House of Hope, Timti would have been transferred to a government institution like so many other young girls who have been living on the streets and don't have a way to return home.
Timti is now back with her parents and has been enjoying being back in school and just being a child again!