W15H: Caleb's inspiring faith through adversities
Hello September 22nd, 2022
Share This Story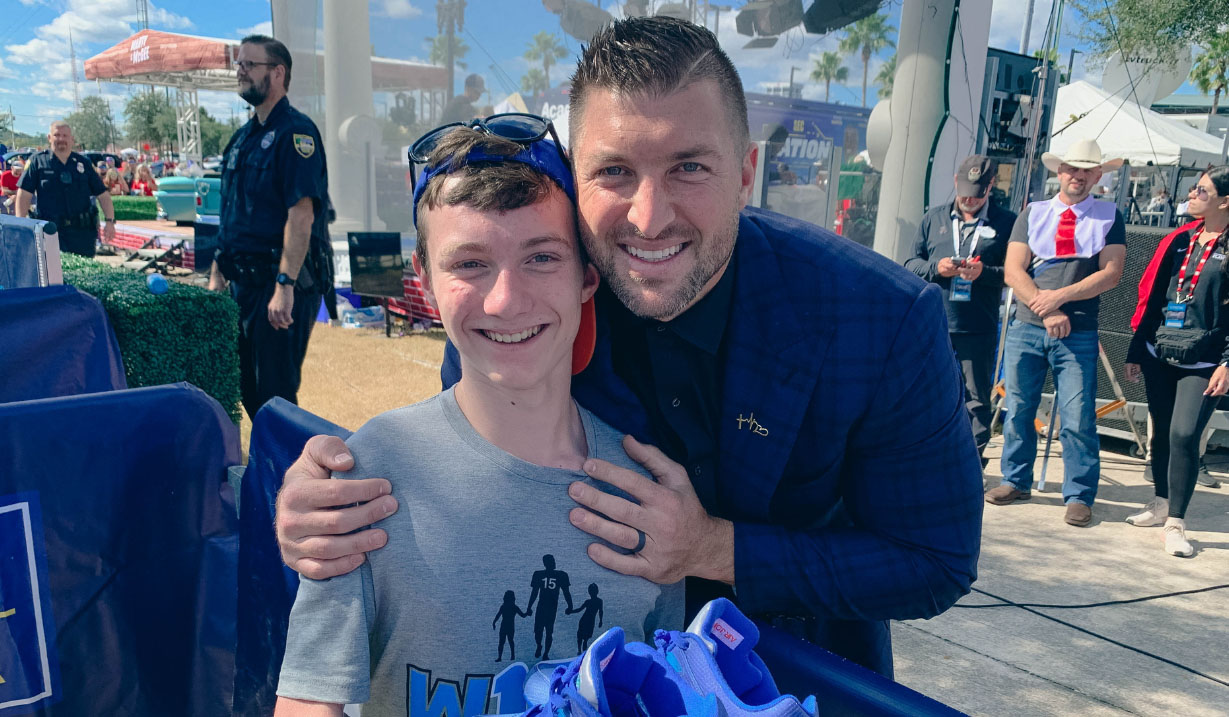 Caleb is a natural-born leader with a humble view of life. He is not afraid to do hard things and face life's challenges with grit. Meeting Caleb has inspired us to believe that even though we go through adversities, we can do all things through Christ, who gives us strength (Philippians 4:13).
Caleb was born with a severe medical condition and has been through frequent hospital visits. Though surgeries and recoveries have been challenging, he has always looked to his faith in Christ for strength to overcome these struggles.
Since he was a young boy, Caleb has been a fan of Tim Tebow. During his period of treatment, Caleb got to play in Timmy's Playroom at the hospital. In October 2021, it was our honor to grant Caleb a W15H weekend to remember!
To kick off this special weekend, Caleb had a private dinner and played cornhole with Tim. He also enjoyed an exciting evening at Topgolf and iFly with his family. The next day, Caleb got to experience behind the scenes of the SEC Nation during the University of Florida vs the University of Georgia game! He enjoyed the "Gator Walk" and got to go on the field before the game started! One of the special moments that weekend was getting to meet past W15H families during the game.
"Meeting Tim means a lot because it is not every day that you get to meet someone you have looked up to for as long as you can remember." -Caleb
We are honored to have welcomed Caleb to our W15H family! Caleb looks forward to going to college one day as he perseveres through physical therapy. Will you continue to pray for Caleb's physical health as he continues with his therapy visits?
If you would like to support us in providing additional W15H experiences for children like Caleb, we invite you to donate today or join The Movement. 100% of every dollar raised goes directly towards outreach.