Timmy's Playroom though a Mother's Eyes…
Hello May 29th, 2015
Share This Story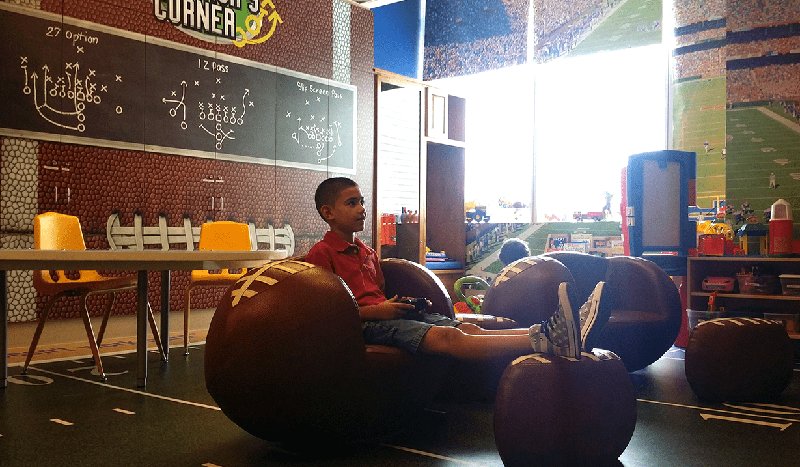 A unique perspective from a mother on the impact of Timmy's Playroom on her family…
On November 27th 2014, Christian was admitted to Nemours Children's Hospital in Orlando, FL. It was Thanksgiving Day and we were hoping it was going to be a quick visit to the ER. However, it turned into a 23-day stay. Christian had a perforated appendix, which grew more complex and required 3 consecutive surgeries. It was tough, but our faith in God was never shaken. We knew without a doubt God's plan for Christian was perfect, and we were there for a reason.
During our short residency at Nemours we were introduced to Timmy's Playroom. Christian's eyes lit up when he first walked into the room. He was so happy! There were a number of things to do, but his favorites were the video games and big screen televisions. Christian visited Timmy's Playroom a number of times daily to play, attend cool events, and socialize with other patients. This space provided Christian the opportunity to play and an escape from the clinical side of things. By visiting Timmy's Playroom, he was able to forget he was in a hospital and do what kids do best – play!
As a parent, I am so grateful for Timmy's Playroom. Nothing makes a parent happier than to see their child comfortable, playing, and having a good time despite the current circumstances. When I walked into the room and read one of my favorite scriptures on the wall, "I can do all things through Him who strengthens me," it filled me with so much fortitude. It was a friendly reminder to keep believing that God was in total control. Even for me, the room provided a well needed change of scenery and peace. I would like to see a Timmy's Playroom in every children's hospital. The positive impact it makes on a sick child is infinite. I witnessed my son feel better just by having the opportunity to play in the playroom during his toughest recovery days, and to see a smile on his face was priceless.
I am happy to share that Christian is fully healed and restored. He is now a healthy 8-year-old with a love for Christ and witnessing about God's goodness. To this day, he talks to his friends and family about his awesome stay at Nemours Orlando and fun visits to Timmy's Playroom. Every time we visit Nemours, Christian always takes advantage and visits the room that provided him with so much fun during his hospital stay – Timmy's Playroom.
– Betsy Hegarty
The Tim Tebow Foundation has 11 Timmy's Playrooms on the horizon (8 international and 3 within the United States). To help us bring these Timmy's Playrooms to a reality and provide a room for children undergoing medical treatment to just be a kid again, please consider donating today at www.timtebowfoundation.org/donate/php.
The Tim Tebow Foundation exists to bring Faith, Hope and Love to those needing a brighter day in their darkest hour of need. The foundation fulfills this mission every day by making dreams come true for children with life-threatening illnesses through the W15H program, building Timmy's Playrooms in children's hospitals, providing life-changing surgeries to children of the Philippines through the Tebow CURE Hospital, sponsoring Night to Shine, a nationwide prom for people with special needs, providing care for orphans in four countries and adoption aid grants for families who choose to adopt an international child with special needs, and encouraging service to others through Team Tebow.