Snow's Story
Hello October 14th, 2021
Share This Story
Written by a Tebow CURE Hospital Staff Member
"I want to undergo surgery so my arm's functionality will return back to normal," Snow shared.
Snow is an 11-year-old girl who broke her arm four years ago and was unable to have it treated medically. She was initially brought to a "manghihilot" (folk massage therapist), by her Grandma Nancy, hoping that it would realign her bones. They found short-term pain relief but still needed to go to a nearby hospital for treatment.
The doctor told us that she needed surgery since she sustained a fracture, but it wasn't ideal because she was still too young to have surgery according to him," Nancy recounted.
Due to that complication, Snow's fracture was left untreated for so long, her bones fused together and healed incorrectly. This limited her arm's range of motion, restricting her in certain activities such as lifting heavy objects and needing to bathe with a water dipper. She also complained of some pain and swelling from time to time, which prompted her family to have her checked again by another specialist.
Thankfully, one of Snow's relatives referred them to Tebow CURE and told them about our sponsored orthopedic surgeries. Snow and Grandma Nancy immediately booked an appointment with us. Because of your support in what we do, Snow was able to receive the treatment she needed.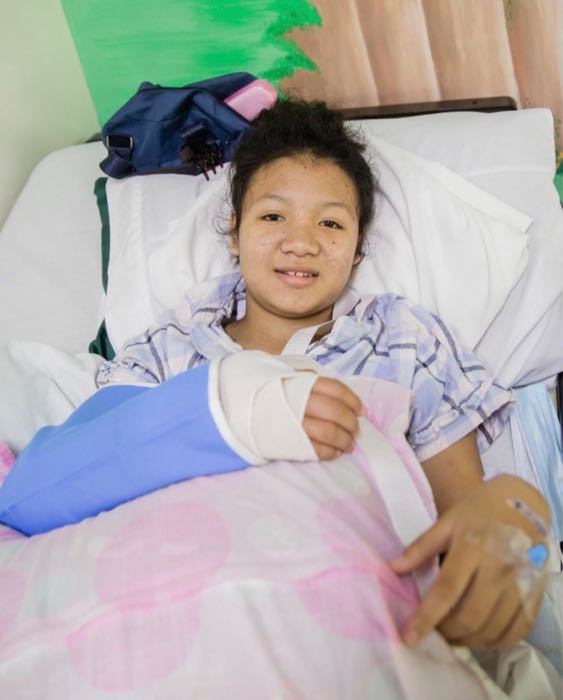 When Snow was finally admitted she said she felt happy and nervous since it was her first hospitalization experience. First time experiences can be daunting, but we are so glad that we had the opportunity to show God's love and healing power to Snow as we served her.
Before her operation, Snow confessed that she felt anxious and wanted to memorize scripture to bring her peace and comfort. Her favorite verse was 1 Peter 5:7 that says, "Give all your worries to God because He cares for you." Snow did not just surrender her fears to Jesus, but also asked Him to be her Master, Savior, and best friend. Not long after, she was wheeled into the operating room where the medical team worked on putting back together the fractured bones in Snow's elbow. They finished off by securing them with the help of surgical pins. It was a fairly straightforward procedure and Snow's surgery was a success!