Night to Shine is BACK!!!
Hello June 11th, 2015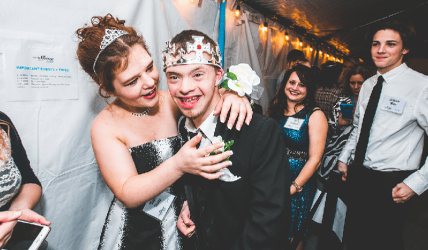 Share This Story
This past February, the Tim Tebow Foundation watched Valentine's Day Weekend transform from simply a celebration of love, to a worldwide movement celebrating God's love for people with special needs and the value of life. Through Night to Shine, the Tim Tebow Foundation financially sponsored 44 host churches in 26 states and 3 countries to create an unforgettable prom night experience for people with special needs, ages 16 and older.
The Tim Tebow Foundation now has announced its plans to continue the tradition, and on February 12, 2016 will host up to 100 churches worldwide. The foundation is committed to providing each host church up to $8,500, in addition to a detailed prom manual and prom kit full of special decorations and gifts for guests.
At the inaugural event, 15,000 volunteers and 7,000 honored guests came together on one night to create memories that will last a lifetime. Each prom included a red-carpet entrance complete with a friendly welcome from paparazzi, limousine rides, hair and makeup stations, shoe shining areas and, of course, the dance floor. The honored guests received either a crown or a tiara to serve as a reminder that they are all kings and queens.
"We want to show each and every guest that they are special and they are loved," said Tim Tebow. "This is a night to celebrate who they are as a child of God, and to remind them that in God's eyes, we are all kings and queens."
Night to Shine 2016 is expected to be even better than its predecessor. The vision of the Tim Tebow Foundation is to include more churches, resulting in more volunteers, and most importantly, more honored guests.
"We have always said that we wanted Night to Shine to be a night for the churches to shine, the volunteers to shine, and most importantly, for Christ to shine," said Erik Dellenback, Executive Director of the Tim Tebow Foundation. "We cannot wait to see what God has in store for next year's event."
View a recap video of Night to Shine 2015 here.
To support Night to Shine, refer a church, or learn more about the Tim Tebow Foundation, please visit www.timtebowfoundation.org.
The Tim Tebow Foundation exists to bring Faith, Hope and Love to those needing a brighter day in their darkest hour of need. The foundation fulfills this mission every day by making dreams come true for children with life-threatening illnesses through the W15H program, building Timmy's Playrooms in children's hospitals, providing life-changing surgeries to children of the Philippines through the Tebow CURE Hospital, sponsoring Night to Shine, a worldwide prom for people with special needs, providing care for orphans in four countries and adoption aid grants for families who choose to adopt an international child with special needs, and encouraging service to others through Team Tebow.