Meet Crispus: The Change We Believe In
Hello December 27th, 2019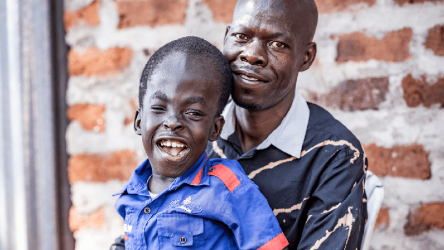 Share This Story
On December 2, 2008, a very special baby boy was born in a small village in Uganda, Africa. At the time though, few could understand just how significant this little life would be as Crispus was immediately diagnosed with hydrocephalus. Born into a culture that viewed children with special needs as cursed and evil, Crispus was considered to have little hope…
Crispus's father had a different view, a counter-cultural one. Despite people telling him that his child is cursed, evil, and not wanting to look at him, he chose to trust God with Crispus's life.
Crispus grew up as an outcast and a constant target of bullying. Even worse, he grew up without the proper medical care that his condition required. He could not sit, he could not walk, he could not even smile.
Still clinging to hope, it was when Crispus was six years old that his family found the Community Care program at Ekisa Ministries, Tim Tebow Foundation's newest partner in ministry, and the first TTF Ministry Partner dedicated to serving children with special needs in Africa!
Crispus began to receive physiotherapy and his parents received counseling, guidance and training on how to provide the best care for Crispus at home. Ekisa's support for Crispus and his family has been life-changing…

"Now, Crispus can run. He can run, which he couldn't do before. Crispus used to be feared, but now that the community understands him, he is loved so much. He is doing everything a normal person would do. I never thought I could raise Crispus, but now I am happy. He is somebody and he is loved!" - Crispus's father
At TTF, we believe in change. We believe that every child & every person was created in the image of God. We believe in change for children like Crispus around the world who are looked at as cursed, or less-than. Right now, we have a unique opportunity to see change become reality through building additional community care centers alongside Ekisa Ministries in Uganda and across Africa. These community care centers provide families with access to life-changing services, allowing children, like Crispus, who were once shunned to realize hope and dignity and find the purpose for which God created them!
As we close out 2019, we're asking you to say "yes." Yes to change and yes to the idea that everyone matters. With your support today, we can reach our goal of raising approximately $75,000 to help fund these life-changing community care centers, as well as TTF's on-going ministry, so that together we can bring Faith, Hope & Love can to children like Crispus and their families. With you on our team, we can continue to see change around the world for these precious children! Donate today.
Serving HIM together,
Tim Tebow Foundation