A Mother's Perspective on Her Son's First Night to Shine
Hello February 24th, 2021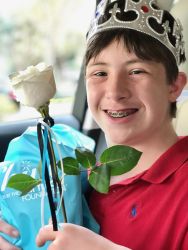 Share This Story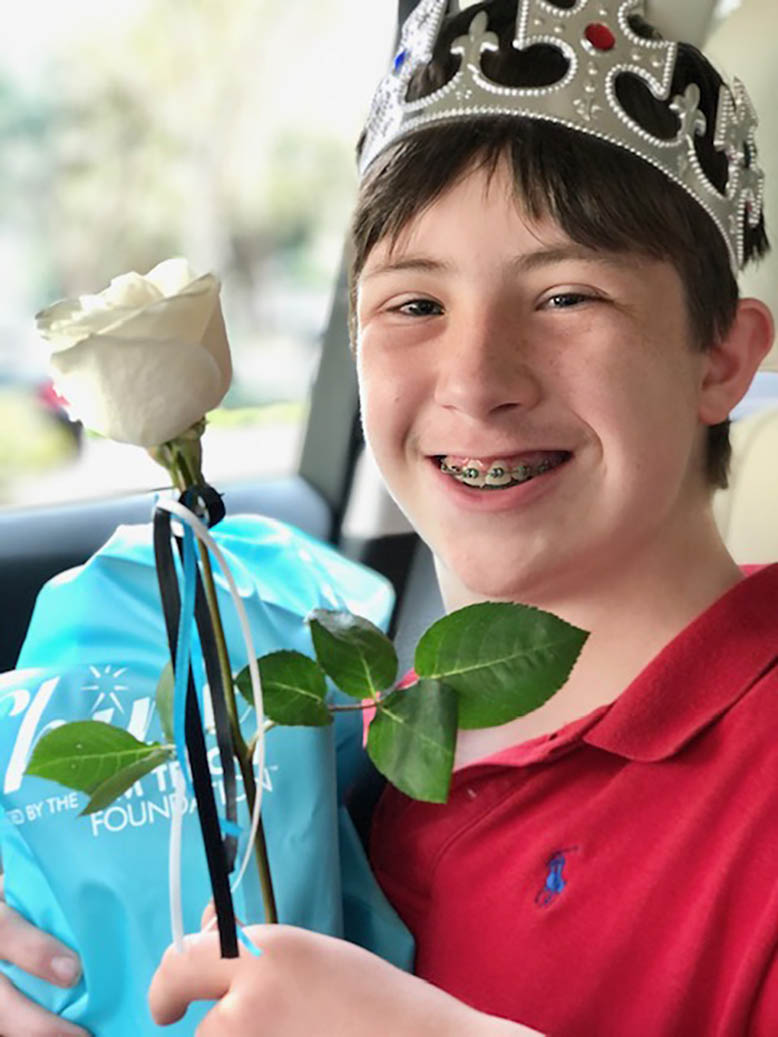 A Night to Shine the Light of Christ 2021
(a mother's perspective on her son's first Shine-Thru red-carpet experience)
Excitement swells up in me threatening to knock me down into a blubbering mess. As we enter the parking lot, we seemingly float through a sea of enthusiastic well-wishers holding glittery welcome signs that beckon us to join them for an adventure! Emotional surges are 100% in the forecast for this mother of a child with Down syndrome.
The cheering continues. Blake is already feeling the love. Masked volunteers, whose smiles cannot be hidden, direct us to drive in a circular pattern through the adjacent lot. Blake's special evening, however, has only just begun, and we already know he's going to emerge as a crowned King.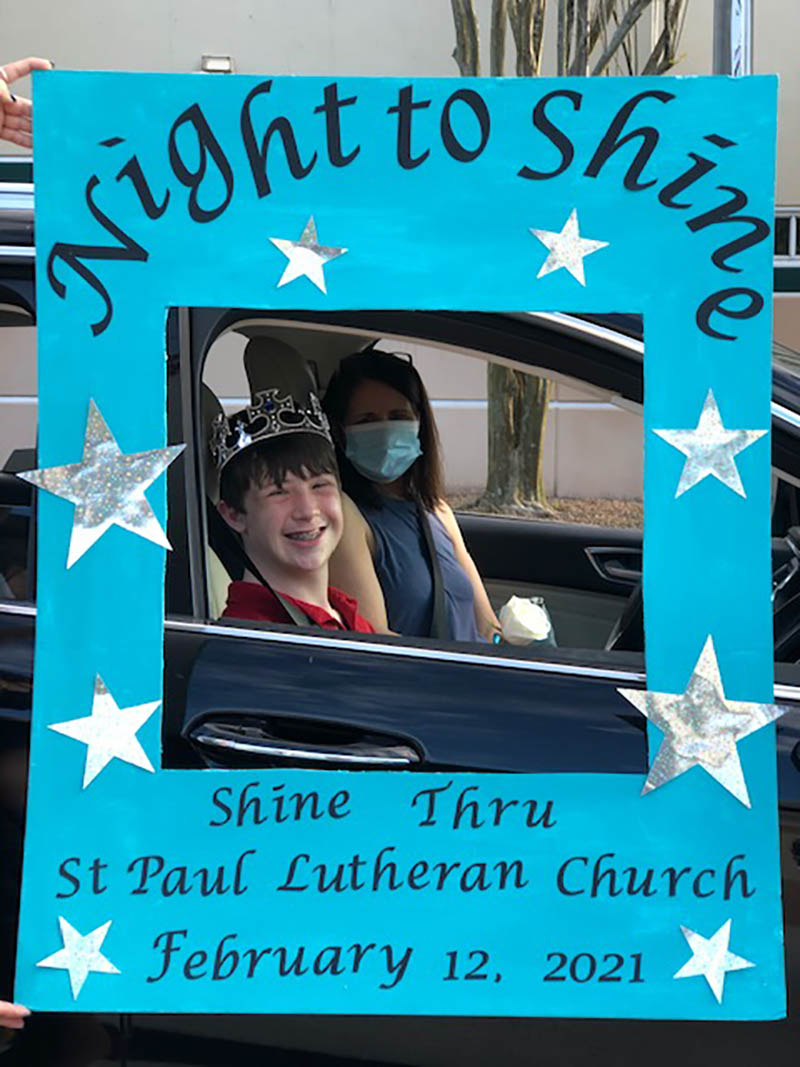 Timidly, we pull up to the first table set aside for the honored guests. This is Blake's first Night to Shine, so I try my best to follow directions and not miss a queue. I give the volunteer Blake's name. He's on the list! He's counted. He matters. The volunteer brings out a large 8 x 10 nametag with "BLAKE" written in big, bold letters and places it on the passenger side of my desperately-in-need-of-a-wash windshield.
And then it hits me again…the ocean wave of tears. We drive past what seems like masses of people holding signs of encouragement, cheering and calling out to my son…"HI, BLAKE! WAY TO GO, BLAKE! HAVE FUN, BLAKE! HI, BLAKE! YEAH, BLAKE!" A few feet away, we pause while another volunteer hands Blake a beautiful, elegant white rose, tediously garnished with a hand-tied black, white, and aqua bow. More cheers! More signs! More excitement!
As we press on toward the next table, stationed around the semi-circle, volunteers bestow upon Blake his kingly crown! Silver, plastic, and adjustable, yet simultaneously regal and befitting for a beloved child of The King of Kings, Blake's radiant smile emerges as it's fitted onto his head. We slowly continue our short trek, desperately trying to soak in every iota of the heartfelt sentiments and attention.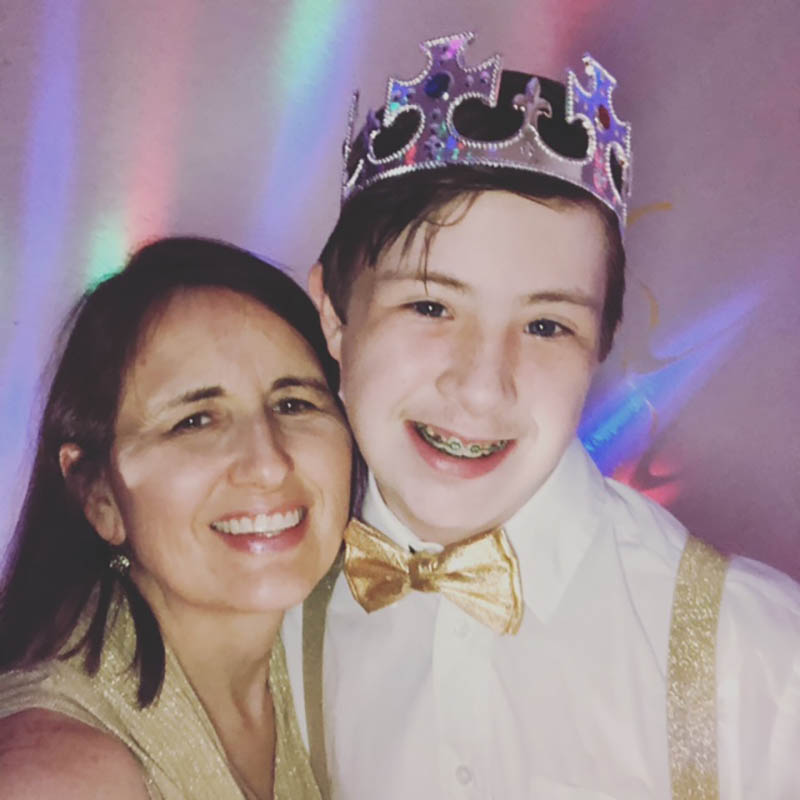 To the left, a band bellows out a familiar praise and worship tune. Their voices add a welcoming pomp and circumstance to the already-electric atmosphere. Countless volunteers hold up signs that state, "You are Loved," "You're Special!" and "Way to go!" To the right, a little farther down, a photo op! We pause so I can hand my phone to the designated photographer (while her accomplice holds up a Night to Shine frame), who snaps a photo of Blake through the open window.
As we round the bend, I sense that Blake's fun-filled adventure is about to wind down shortly. As the old saying goes, "Time flies when you're having fun!" Slowly, we pass by more smiling faces and more clapping hands. We wave, again and again, mouthing, "Thank you" while savoring the moment and bursting at the seams with gratitude. Another table, another gift! A swag bag! Blake agrees to wait until we arrive at home to reveal the treasures inside.
Suddenly, I notice someone to the right. Paparazzi! A woman with a camera runs down the sidewalk toward each car, excitedly attempting to capture photos of the kings and queens as they pass by. Moments later, we spot the last table filled with stacks of metallic catering containers. Is this what I think it is? Are they providing us with food as well? I slow down, a bit confused, worried that I am being presumptive. A gloved volunteer walks over and asks ever so politely through the passenger window if she can place the containers in my trunk. YES! Absolutely! This is music to a tired mama's ears! No cooking? No grocery store? They even made dinner? Waves of tears rush in again, but I hold them back. Mostly.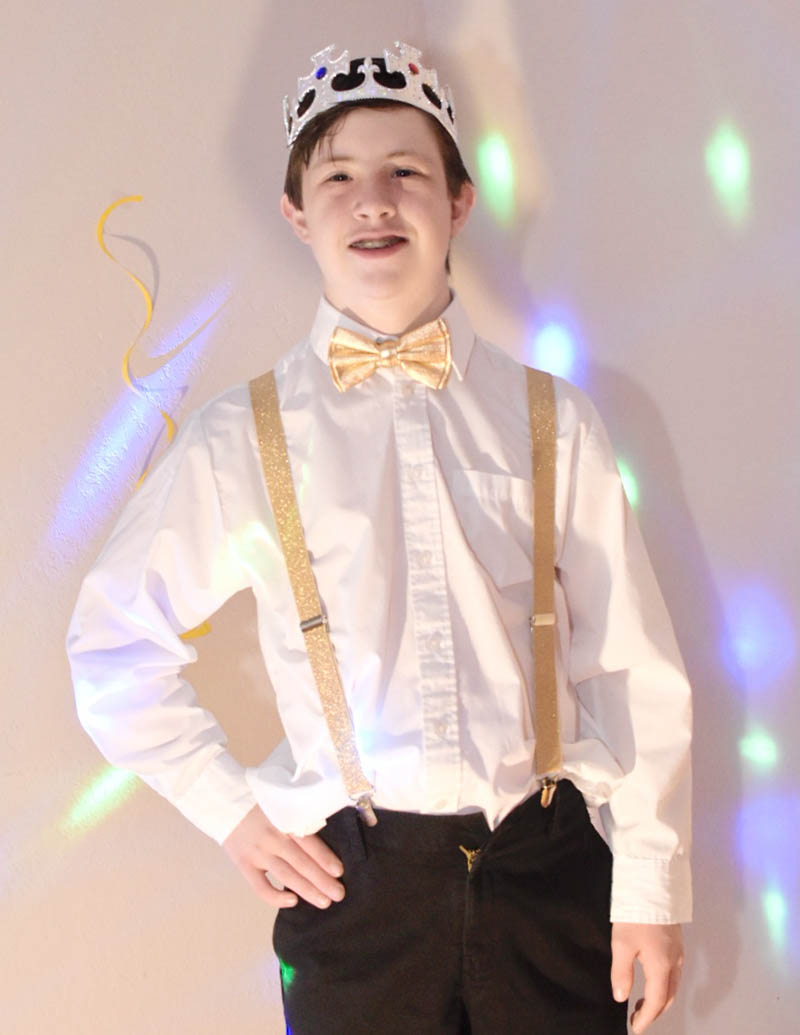 The remaining multitude of Blake boosters, including the head pastor of our host church, guides us out of the parking lot with full hearts and ear-to-ear smiles, so very thankful that for a few glorious moments, BLAKE was loved, honored, cherished, sought after, lavished with gifts and celebrated!
I glance over at the newly crowned King, who is still basking in the richness of becoming royalty for an evening. He looks at his rose, breathes in deeply, smiles, and half-whispers to himself, "I so happy."
~Ruth Fix