TTF: Timmy's Playroom Opening at Shiners Hospitals for Children – Shreveport
Hello September 16th, 2015
Share This Story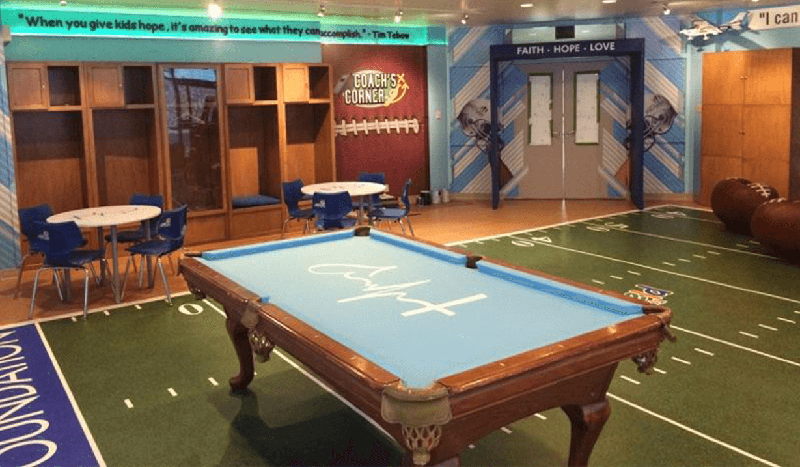 The Tim Tebow Foundation is excited to announce that Shriners Hospitals for Children – Shreveport has become the eighth facility, and first Shriners Hospital, to open an official Timmy's Playroom. Shriners Hospitals – Shreveport boasts the largest Timmy's Playroom to date and joins Wolfson Children's Hospital of Jacksonville, FL, Dreams Come True of Jacksonville, FL, UF Health – Gainesville, FL, Tebow CURE Hospital in the Philippines, Nemours Children's Hospital – Orlando, FL, Niswonger Children's Hospital in Johnson City, TN and Covenant Children's Hospital in Lubbock, TX as a host to one of these unique rooms.
A grand opening ceremony on Wednesday, September 16, officially opens the doors to welcome patients to a place where they can take their minds off their medical treatment and just be kids again. This room, like all the rest, is designed to bring Faith, Hope and Love to hospitalized children and their families through play and interaction with other children facing similar diagnoses in a spirit-filled environment.
Each Timmy's playroom is completely customized with a football field floor, football chairs, custom wall graphics, an arts and crafts table, specially-built lockers, a Bible verse banner and a Jumbotron entertainment center, stocked with the latest video games, DVDs and electronics.
The Tim Tebow Foundation exists to bring Faith, Hope and Love to those needing a brighter day in their darkest hour of need. For more on the Tim Tebow Foundation and Timmy's Playrooms, please visit https://www.timtebowfoundation.org/index.php/timmy